Survey Results Detail What Top Entry Level Employers Want Most
CollegeGrad.com Releases Top Hiring Criteria for College Grads
STATE COLLEGE, PA--(HR Marketer)--March 27, 2008--CollegeGrad.com, the #1 Entry Level Job Site, today released the results of its survey on what employers want most in hiring new college grads. What is most important to entry level employers the college you graduated from? Your GPA? Or what you majored in? According to the survey results, the answer may surprise you.
The criteria that the employers ranked as most important are as follows:
#1 - The student's major (44%)
#2 - The student's interviewing skills (18%)
#3 - The student's internship/experience (17%)
#4 - The college the student graduated from (10%)
#5 - Other miscellaneous qualifications (5%)
#6 - The student's GPA (4%)
#7 - The student's personal appearance (1%)
#8 - The student's computer skills (1%)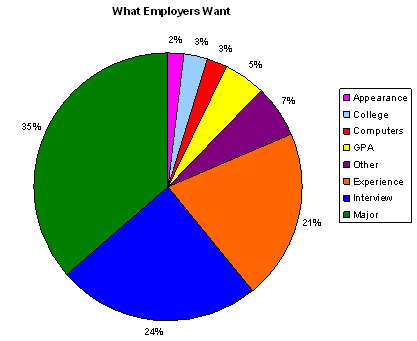 The survey results indicate that 44% of employer respondents ranked a student's major as the top priority for hiring consideration. This is up slightly from 42% in 2007. Interviewing skills and a student's internships and experience ranked second and third.
The fourth place ranking was a surprise to this year's results - the college that the student graduated from was ranked as the top criterion for hiring consideration by 10% of employer respondents. This is up from just 1% and last place in 2007.
What does it mean that employers first look at a candidate's major? In initial hiring consideration, employers are first concerned with finding candidates who have a specific skill-set necessary for success in a particular field.
"Employers are looking for candidates with industry knowledge and the ability to learn," said Linda Ickes, Director of the Career Center at Haworth College of Business at Western Michigan University. "A student's degree and GPA provide evidence of this ability."
Beyond having the right major, employers repeatedly express the importance for candidates to set themselves apart from others with the same major. "The war for talent still exists, but hiring managers are going to be more picky about who they hire," said Steven Jungman, Division Manager for ChaseSource, LP. "Anything that a job seeker can do to set themselves apart from the crowd will be a benefit."
To compete most effectively, CollegeGrad.com recommends that job seekers note the specific success factors necessary for their desired job, and then cater their career preparation toward those factors. Those who can communicate these skills through past experiences in an interview setting will stand out from the crowd.
And while core competencies vary greatly depending on the industry, employers across the board agree that the ability to demonstrate foundational work habits is critical for success in a new job.
"It is crucial that new college grads entering the workforce are disciplined and goal-oriented," said Adam Nebel, Training Recruiting Manager for Summit Commercial Finance. "Establishing great work habits and a perspective based on long term attainable goals enables new college grads to work through new challenges and take advantage of new opportunities."
CollegeGrad.com reminds college students and grads that it's never too early to start building a strong work ethic and great work habits. Start early, start now.
The information was gathered while compiling the list of more than 500 Top Entry Level Employers for 2008. Employers were asked to rank criteria in order of importance for hiring consideration. The full survey is available at: www.collegegrad.com/surveys/topemployers/.
About CollegeGrad.com:
CollegeGrad.com is the #1 entry level job site on the Internet and is the leader in the field of entry level job search. Established in 1995, CollegeGrad.com has been conducting the Top Entry Level Employers Survey since 1997.
---
NOTE: The information contained in this press release and associated information may be reprinted in whole or in part as long as full attribution is given to CollegeGrad.com as the source of the information. This is an exception of our standard copyright policy for the material on this page only.