Career Information
Your entire educational career has been leading up to this moment: finding the right career. It's your time to shine, but where? With so many careers in so many different industries, figuring out what you want to do can be a difficult task. We're here to help. Use the dropdown menu below to start researching your new career, and get ready to learn everything you need to know, including:
Salaries, both national and by metropolitan area
Number of people who work in that profession
Necessary traits
It's no secret that education directly affects employment. To give you an idea of just how true that is, here's a great graph illustrating how careers that require a higher level of training are projected to grow from 2008 through 2018, according to the U.S. Bureau of Labor Statistics: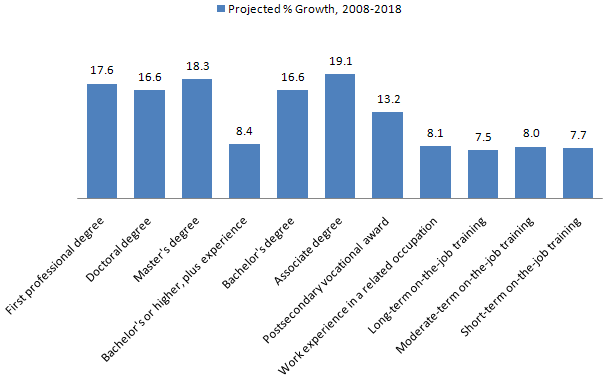 It's time for you to put that training to work. Choose an occupation from the dropdown menu below, and start working towards a successful and rewarding career today.
Get info on careers in…
Art & Design
Occupation
Employees
Median
Annual Salary
Median
Hourly Wage
Top 25%
Annual Salary
Top 25%
Hourly Wage
2018
Change
2018
% Change
Fashion Consultants
15,780
$64,300
$30.90
$90,000
$43.30
200
0.8%
Film and Movie Editors
17,550
$50,800
$24.40
$79,600
$38.20
3,000
11.9%
Floral Arrangers
51,470
$23,500
$11.30
$29,600
$14.20
-1,900
-2.5%
Interior Decorating Consultants
46,010
$46,200
$22.20
$63,600
$30.60
13,900
19.4%
Motion Picture Camera Operators
17,540
$42,900
$20.60
$61,300
$29.50
2,400
9.2%
Multimedia Artists and Animators
28,800
$58,300
$28.00
$77,400
$37.20
11,200
14.2%
Musical Directors and Composers
14,330
$45,100
$21.70
$61,600
$29.60
5,300
10.0%
Photojournalists
57,760
$29,800
$14.30
$44,200
$21.30
17,500
11.5%
Production Artists
200,870
$43,200
$20.80
$58,100
$28.00
36,900
12.9%
Retail Merchandise Displayers
61,280
$26,000
$12.50
$33,000
$15.80
6,000
7.1%
Singers and Other Musicians
47,260
$46,500
$22.40
$77,100
$37.10
14,200
7.6%
Sports Media Workers
1,745,670
$42,500
$20.40
$63,600
$30.60
332,600
12.1%
Business
Occupation
Employees
Median
Annual Salary
Median
Hourly Wage
Top 25%
Annual Salary
Top 25%
Hourly Wage
2018
Change
2018
% Change
Administrative Support Assistants
22,336,450
$30,400
$14.60
$40,100
$19.30
1,842,100
7.6%
Auditing Clerks
1,757,870
$33,500
$16.10
$41,300
$19.90
212,400
10.3%
Auditors
1,106,980
$60,300
$29.00
$79,500
$38.20
279,400
21.7%
Budget and Policy Analysts
60,970
$66,700
$32.10
$83,100
$40.00
10,100
15.1%
Business Consultants
552,770
$75,300
$36.20
$101,400
$48.80
178,300
23.9%
Businesspeople and Finance Workers
6,063,670
$58,900
$28.30
$79,600
$38.20
1,209,900
17.7%
Econometricians
13,160
$86,900
$41.80
$119,600
$57.50
900
5.8%
Executive Assistants
1,361,170
$41,700
$20.00
$52,200
$25.10
204,400
12.8%
Financial Services Counselors
81,650
$30,600
$14.70
$36,400
$17.50
100
0.1%
General Office Workers
2,815,240
$26,100
$12.60
$33,000
$15.90
358,700
11.9%
General Purchasing Engineers
281,910
$54,800
$26.40
$72,100
$34.70
40,900
13.9%
Human Resources and Training Specialists
219,240
$56,400
$27.10
$74,500
$35.80
47,200
21.0%
Human Resources Coordinators
35,630
$88,100
$42.30
$115,200
$55.40
3,400
8.5%
Human Resources Supervisors
62,990
$96,600
$46.40
$127,300
$61.20
5,800
9.2%
Insurance Claims and Policy Processors
235,480
$34,000
$16.40
$41,300
$19.90
700
0.3%
Job Analysis Specialists
111,890
$55,600
$26.70
$70,100
$33.70
28,700
23.6%
Job Placement Specialists
198,190
$46,200
$22.20
$64,400
$31.00
58,000
27.9%
Marketing Analysts
226,410
$61,600
$29.60
$85,200
$41.00
70,100
28.1%
Office Secretaries
1,797,670
$30,000
$14.40
$37,300
$17.90
93,300
4.6%
Personal Finance Advisors
149,460
$68,200
$32.80
$116,600
$56.10
62,800
30.1%
Personnel Supervisors
369,170
$92,600
$44.50
$123,200
$59.20
65,800
7.3%
Property Sales Agents
151,550
$40,100
$19.30
$63,500
$30.50
63,700
16.2%
Real Estate Sales Brokers
48,380
$55,700
$26.80
$93,300
$44.90
10,600
8.6%
Retail Sales Managers
1,163,040
$34,900
$16.80
$45,700
$22.00
88,400
5.3%
Retail Salesworkers
4,209,500
$20,300
$9.70
$27,300
$13.10
374,700
8.4%
Sales Team Managers
261,200
$67,500
$32.40
$96,600
$46.40
24,400
4.8%
Salespeople
13,715,050
$23,900
$11.50
$41,100
$19.80
980,400
6.2%
Supervisory Workers
6,116,380
$89,300
$43.00
$128,300
$61.70
454,300
5.1%
Technical Clerks
266,090
$29,700
$14.30
$38,800
$18.60
-35,700
-11.6%
Education
Occupation
Employees
Median
Annual Salary
Median
Hourly Wage
Top 25%
Annual Salary
Top 25%
Hourly Wage
2018
Change
2018
% Change
College Administrators
105,900
$82,800
$39.80
$116,000
$55.80
2,800
2.3%
College Instructors
205,760
$64,700
$31.10
$90,300
$43.40
NA
NA
College Mathematical Science Instructors
48,100
$63,600
$30.60
$87,100
$41.90
NA
NA
College Nursing Educators
49,140
$61,400
$29.50
$78,400
$37.70
NA
NA
College Philosophy and Religion Instructors
19,630
$61,200
$29.40
$81,800
$39.30
NA
NA
College Physics Instructors
12,870
$75,100
$36.10
$102,100
$49.10
NA
NA
College Political Science Instructors
15,180
$68,800
$33.10
$93,500
$45.00
NA
NA
College Psychology Instructors
33,450
$65,800
$31.60
$87,700
$42.20
NA
NA
College Recreation and Fitness Instructors
16,850
$55,400
$26.60
$76,700
$36.90
NA
NA
College Social Sciences Instructors
5,830
$69,100
$33.20
$92,400
$44.40
NA
NA
College Social Work Instructors
8,290
$61,000
$29.30
$80,800
$38.80
NA
NA
College Sociology Instructors
16,380
$64,400
$31.00
$87,300
$42.00
NA
NA
College Vocational Education Instructors
114,420
$48,000
$23.10
$64,000
$30.80
NA
NA
Elementary Educators
1,544,300
$50,500
$24.30
$63,600
$30.60
244,200
15.8%
High School Administrators
219,280
$85,200
$41.00
$104,100
$50.00
19,800
8.6%
High School Instructors
1,091,710
$52,200
$25.10
$66,100
$31.80
96,300
8.9%
High School Vocational Education Instructors
92,980
$52,600
$25.30
$64,800
$31.20
9,600
9.6%
Junior High School Instructors
665,420
$50,800
$24.40
$64,000
$30.80
101,200
15.3%
Junior High Vocational Education Instructors
14,060
$49,300
$23.70
$61,100
$29.40
500
3.2%
Junior Special Education Instructors
102,490
$52,000
$25.00
$64,700
$31.10
18,100
18.1%
Library Employees
8,488,740
$45,200
$21.70
$62,100
$29.90
1,324,100
14.4%
Nursery School Teachers
389,660
$24,500
$11.80
$32,200
$15.50
86,700
19.0%
Secondary School Special Ed. Instructors
146,240
$52,900
$25.40
$67,400
$32.40
19,500
13.3%
Teachers' Aides
1,275,410
$22,800
$11.00
$28,800
$13.90
134,900
10.3%
Engineering
Occupation
Employees
Median
Annual Salary
Median
Hourly Wage
Top 25%
Annual Salary
Top 25%
Hourly Wage
2018
Change
2018
% Change
Architecture Drafters
105,320
$45,600
$21.90
$57,400
$27.60
10,800
9.1%
Drafting Engineers
18,290
$45,300
$21.80
$58,500
$28.20
500
2.3%
Electronics Designers
30,590
$52,100
$25.00
$66,300
$31.90
300
0.8%
Engineers and Architects
2,412,730
$68,800
$33.10
$92,200
$44.30
270,600
10.3%
Landscape Design Engineers
18,940
$60,600
$29.10
$79,900
$38.40
5,300
19.7%
Machine Designers
71,890
$47,800
$23.00
$59,700
$28.70
-900
-1.1%
Sound Recording Engineers
15,560
$46,400
$22.30
$67,000
$32.20
1,200
6.3%
Health
Occupation
Employees
Median
Annual Salary
Median
Hourly Wage
Top 25%
Annual Salary
Top 25%
Hourly Wage
2018
Change
2018
% Change
Cardiographers
48,070
$48,300
$23.20
$63,000
$30.30
11,900
24.1%
Certified Respiratory Therapists
107,270
$53,300
$25.60
$62,600
$30.10
22,100
20.9%
Clinical Massage Therapists
55,920
$35,200
$16.90
$51,800
$24.90
23,200
18.9%
Clinical Medical Assistants
495,970
$28,700
$13.80
$33,800
$16.20
163,900
33.9%
Dental Nurses
173,900
$67,300
$32.40
$80,000
$38.50
62,900
36.1%
Dental Technicians
40,480
$34,800
$16.70
$45,100
$21.70
6,400
13.9%
Emergency Care Technicians
217,920
$30,000
$14.40
$39,300
$18.90
19,000
9.0%
General Duty Nurses
2,583,770
$63,800
$30.70
$78,000
$37.50
581,500
22.2%
Healthcare Assistants
3,886,690
$24,700
$11.90
$31,200
$15.00
1,147,100
28.8%
Healthcare Laboratory Technicians
152,420
$36,000
$17.30
$45,400
$21.80
25,000
16.1%
Healthcare Laboratory Technologists
166,860
$55,100
$26.50
$65,100
$31.30
20,500
11.9%
Healthcare Services Managers
271,710
$81,900
$39.40
$106,000
$51.00
45,400
16.0%
Healthcare Technicians and Practitioners
7,200,950
$57,700
$27.70
$80,000
$38.40
1,599,600
21.4%
Healthcare Transcriptionists
82,810
$32,600
$15.70
$39,000
$18.80
11,700
11.2%
Industrial Occupational Therapists
97,840
$69,600
$33.50
$84,200
$40.50
26,800
25.6%
Licensed Physical Therapist Assistants
63,750
$48,300
$23.20
$57,800
$27.80
21,200
33.3%
Licensed Vocational and Practical Nurses
728,670
$39,800
$19.10
$47,200
$22.70
155,600
20.7%
Life Coaches
30,900
$41,300
$19.90
$56,100
$27.00
4,400
13.1%
Marriage Counselors and Family Therapists
26,450
$46,900
$22.60
$58,400
$28.10
3,900
14.5%
Medical Information Technicians
170,580
$31,300
$15.00
$40,500
$19.50
35,100
20.3%
Medical Office Specialists
469,740
$30,200
$14.50
$36,800
$17.70
125,500
26.6%
Mental Health Therapists
106,920
$38,000
$18.30
$50,100
$24.10
27,200
24.0%
Nursing Aides and Orderlies
1,438,010
$24,000
$11.60
$29,000
$13.90
276,000
18.8%
Nutritionalists
53,220
$52,200
$25.10
$63,500
$30.50
5,600
9.2%
Optical Technicians
30,580
$28,200
$13.60
$35,800
$17.20
5,200
14.7%
Oral and Maxillofacial Surgical Doctors
5,390
$166,400+
$80.00+
$166,400+
$80.00+
1,000
15.3%
Personal Fitness Trainers
228,170
$30,700
$14.70
$45,700
$22.00
76,800
29.4%
Personal Health Assistants
955,220
$20,500
$9.90
$24,300
$11.70
460,900
50.0%
Pharmaceutical Assistants
52,230
$20,800
$10.00
$25,000
$12.00
-3,500
-6.3%
Pharmacy Laboratory Technicians
331,890
$28,100
$13.50
$33,800
$16.30
99,800
30.6%
Physical Therapy Technicians
44,160
$23,900
$11.50
$28,900
$13.90
16,700
36.3%
Physicians' Aides
76,900
$84,400
$40.60
$99,500
$47.90
29,200
39.0%
Physiotherapists
174,490
$74,500
$35.80
$87,900
$42.30
56,200
30.3%
Radiographer Technologists
213,560
$53,200
$25.60
$64,100
$30.80
37,000
17.2%
Radiologic Therapists
15,570
$74,200
$35.70
$90,700
$43.60
4,100
27.1%
Recreation Therapy Technicians
21,960
$39,400
$19.00
$50,400
$24.20
3,400
14.6%
Registered Respiratory Technicians
15,100
$44,700
$21.50
$54,900
$26.40
-200
-1.1%
Rehabilitation Coordinators
112,690
$31,200
$15.00
$41,400
$19.90
24,500
19.0%
School Counselors
251,050
$52,600
$25.30
$67,200
$32.30
38,600
14.0%
Speech-Language Therapists
111,640
$65,100
$31.30
$82,400
$39.60
22,100
18.5%
Substance Abuse and Behavioral Therapists
78,470
$37,700
$18.10
$48,100
$23.10
18,100
21.0%
Surgery Technicians
91,250
$39,400
$18.90
$47,300
$22.70
23,200
25.3%
Surgical Dental Assistants
294,020
$33,200
$16.00
$39,800
$19.10
105,600
35.8%
Ultrasound Technicians
51,630
$63,000
$30.30
$74,400
$35.80
9,200
18.3%
Hospitality & Culinary
Occupation
Employees
Median
Annual Salary
Median
Hourly Wage
Top 25%
Annual Salary
Top 25%
Hourly Wage
2018
Change
2018
% Change
Culinary Supervisors
190,250
$47,200
$22.70
$61,100
$29.40
18,000
5.3%
Deli Cooks
166,140
$19,500
$9.40
$23,600
$11.30
100
0.1%
Food Preparers and Server Supervisors
791,750
$29,500
$14.20
$37,900
$18.20
55,100
6.6%
Food Service Aides
849,400
$19,000
$9.20
$23,000
$11.10
37,800
4.2%
Head Chefs
94,300
$40,100
$19.30
$53,500
$25.70
200
0.2%
Line Cooks
19,210
$22,900
$11.00
$29,400
$14.10
2,900
16.3%
Lounge and Coffee Shop Hosts and Hostesses
334,310
$18,100
$8.70
$20,600
$9.90
22,800
6.5%
Meeting and Convention Directors
51,530
$44,800
$21.50
$58,100
$28.00
8,800
15.6%
Motel and Hotel Managers
31,660
$46,300
$22.30
$63,900
$30.70
2,800
4.7%
Pastry Bakers
140,510
$23,600
$11.40
$30,100
$14.50
300
0.2%
Personal Care Technicians
3,461,910
$20,800
$10.00
$27,700
$13.30
1,030,600
20.4%
Personal Chefs
770
$24,700
$11.90
$31,100
$15.00
200
4.3%
School Cooks
383,540
$22,600
$10.90
$28,100
$13.50
37,900
9.7%
Sous Chefs
898,820
$22,200
$10.70
$26,600
$12.80
70,300
7.7%
Travel Counselors
76,990
$30,800
$14.80
$38,400
$18.50
-1,200
-1.1%
Law & Criminal Justice
Occupation
Employees
Median
Annual Salary
Median
Hourly Wage
Top 25%
Annual Salary
Top 25%
Hourly Wage
2018
Change
2018
% Change
Attorney Law Clerks
18,780
$47,800
$23.00
$67,400
$32.40
3,900
18.3%
Defense Attorneys
556,790
$113,200
$54.40
$166,400+
$80.00+
98,500
13.0%
Food Servers and Preparers
11,218,260
$18,500
$8.90
$23,000
$11.10
1,007,600
8.7%
Forensic Analysts
12,870
$51,500
$24.80
$66,200
$31.80
2,500
19.6%
Jailkeepers
455,350
$39,100
$18.80
$52,200
$25.10
42,900
9.4%
Legal Administrative Assistants
244,380
$41,100
$19.80
$52,300
$25.20
48,400
18.4%
Legal and Judicial Workers
999,020
$74,000
$35.60
$128,400
$61.70
188,400
15.1%
Paralegals and Law Assistants
246,810
$47,000
$22.60
$60,600
$29.10
74,100
28.1%
Police Investigators
110,380
$62,100
$29.90
$83,700
$40.20
18,700
16.6%
Private Investigators
31,250
$42,100
$20.30
$57,900
$27.80
10,000
22.0%
Protection Servants
3,172,420
$36,200
$17.40
$54,700
$26.30
400,100
12.2%
Liberal Arts
Occupation
Employees
Median
Annual Salary
Median
Hourly Wage
Top 25%
Annual Salary
Top 25%
Hourly Wage
2018
Change
2018
% Change
Publicists
242,670
$52,000
$25.00
$72,200
$34.70
66,200
24.0%
Specifications Writers
46,270
$62,700
$30.20
$80,500
$38.70
8,900
18.2%
TV and Radio Announcers
35,130
$27,500
$13.20
$42,300
$20.30
-3,400
-6.1%
Science
Occupation
Employees
Median
Annual Salary
Median
Hourly Wage
Top 25%
Annual Salary
Top 25%
Hourly Wage
2018
Change
2018
% Change
Environmental Protection Foresters
10,230
$53,800
$25.90
$65,800
$31.60
1,400
12.1%
Farming and Fishing Workers
419,200
$19,600
$9.40
$26,700
$12.80
-9,100
-0.9%
Forestry Aides
31,440
$32,900
$15.80
$43,500
$20.90
2,900
8.6%
Laboratory Animal Caretakers
71,350
$21,700
$10.40
$26,700
$12.80
17,100
22.8%
Land Survey Technicians
62,940
$37,200
$17.90
$48,700
$23.40
15,700
20.4%
Social Science Workers
1,308,380
$58,300
$28.00
$82,000
$39.40
277,200
19.0%
Survey Engineers
50,360
$54,200
$26.10
$72,100
$34.70
8,600
14.9%
Veterinary Laboratory Assistants
79,200
$29,300
$14.10
$35,900
$17.30
28,500
35.8%
Social Science
Occupation
Employees
Median
Annual Salary
Median
Hourly Wage
Top 25%
Annual Salary
Top 25%
Hourly Wage
2018
Change
2018
% Change
Community and Social Servants
1,891,320
$39,000
$18.70
$53,000
$25.50
448,400
16.5%
Healthcare Social Workers
133,510
$46,300
$22.30
$58,500
$28.10
31,100
22.4%
School Psychologists
98,330
$66,000
$31.80
$85,300
$41.00
16,800
11.1%
School Social Workers
277,670
$40,000
$19.20
$52,400
$25.20
36,100
12.3%
Social and Community Service Leaders
113,760
$56,600
$27.20
$74,500
$35.80
18,000
13.8%
Social and Human Service Aides
344,050
$27,900
$13.40
$35,600
$17.10
79,400
22.6%
Social Servants
73,250
$49,400
$23.80
$62,800
$30.20
9,400
12.8%
Substance Abuse and Mental Health Workers
127,140
$38,200
$18.40
$49,800
$24.00
26,800
19.5%
Technology & IT
Occupation
Employees
Median
Annual Salary
Median
Hourly Wage
Top 25%
Annual Salary
Top 25%
Hourly Wage
2018
Change
2018
% Change
Audio-Visual Equipment Technicians
46,070
$39,100
$18.80
$53,700
$25.80
7,000
12.6%
Computer Scientists
26,130
$101,600
$48.80
$127,600
$61.40
7,000
24.2%
Computer Systems and Network Administrators
338,890
$67,700
$32.60
$85,800
$41.30
78,900
23.2%
Computer Workers and Mathematicians
3,303,690
$72,900
$35.10
$95,900
$46.10
785,700
22.2%
Data Communications and Network Analysts
226,080
$73,300
$35.20
$94,300
$45.40
155,800
53.4%
Database Specialists
108,080
$71,600
$34.40
$93,300
$44.80
24,400
20.3%
Desktop Support Specialists
540,560
$44,300
$21.30
$57,300
$27.50
78,000
13.8%
Information Systems Consultants
512,720
$77,100
$37.10
$97,200
$46.70
108,100
20.3%
Operating System Designers
385,200
$93,500
$44.90
$116,500
$56.00
120,200
30.4%
Operating System Programmers
367,880
$70,900
$34.10
$91,000
$43.80
-12,300
-2.9%
Software Applications Engineers
495,500
$87,500
$42.10
$107,700
$51.80
175,100
34.0%
System Architects
195,890
$77,000
$37.00
$96,900
$46.60
27,500
13.1%
Videographers
31,220
$33,000
$15.90
$49,600
$23.80
700
1.8%
Vocational
Occupation
Employees
Median
Annual Salary
Median
Hourly Wage
Top 25%
Annual Salary
Top 25%
Hourly Wage
2018
Change
2018
% Change
Aircraft Mechanics Technicians
112,130
$52,800
$25.40
$61,700
$29.70
7,800
6.4%
Auto Body Technicians
133,290
$38,000
$18.30
$50,000
$24.10
800
0.5%
Automotive Mechanics
606,990
$35,400
$17.00
$47,200
$22.70
35,900
4.7%
Barber Shop Operators
10,550
$24,200
$11.60
$31,500
$15.10
6,200
11.6%
Bus, Truck, and Diesel Engine Mechanics
232,810
$40,300
$19.40
$49,700
$23.90
14,900
5.7%
Construction Electricians
579,150
$47,200
$22.70
$63,100
$30.40
83,000
11.9%
Construction Workers and Extractors
5,751,630
$38,800
$18.60
$54,300
$26.10
1,018,600
13.0%
Cosmetologists and Hairdressers
349,210
$23,300
$11.20
$31,500
$15.10
127,000
20.1%
Delivery Truck Drivers
834,780
$28,300
$13.60
$38,000
$18.30
41,400
4.2%
Equipment Operating Engineers
368,200
$39,800
$19.10
$53,700
$25.80
48,700
12.0%
Healthcare Equipment Technicians
34,550
$42,300
$20.30
$55,300
$26.60
11,300
27.2%
Heavy Truck and Tractor-Trailer Drivers
1,550,930
$37,700
$18.10
$47,100
$22.60
232,900
13.0%
Household Appliance Servicers
34,670
$34,200
$16.40
$43,200
$20.80
1,100
2.2%
Installation and Maintenance Specialists
5,114,150
$39,600
$19.00
$53,000
$25.50
440,200
7.6%
Lock and Safe Technicians
16,910
$35,800
$17.20
$47,000
$22.60
2,700
12.0%
Manicure and Pedicure Technicians
53,020
$19,700
$9.50
$25,000
$12.00
14,300
18.8%
Material Transportation Workers
8,844,700
$28,000
$13.50
$38,900
$18.70
391,100
4.0%
Mechanical Technicians
380,720
$37,700
$18.10
$47,000
$22.60
-19,300
-4.6%
Mobile Heavy Equipment Technicians
120,450
$44,100
$21.20
$53,400
$25.70
11,800
8.7%
Motorcycle Repairers
16,070
$31,800
$15.30
$40,200
$19.30
1,600
8.8%
Outboard Motor Mechanics
18,180
$35,400
$17.00
$44,700
$21.50
1,200
5.6%
Outdoor Power Equipment Service Technicians
26,010
$29,300
$14.10
$36,000
$17.30
1,900
6.4%
Plumbers and Pipefitters
400,970
$46,300
$22.30
$62,400
$30.00
75,800
15.3%
Producing Workers
8,927,130
$30,000
$14.40
$40,300
$19.40
-349,200
-3.5%
Recreational Vehicle Repairers
10,860
$32,200
$15.50
$40,100
$19.30
900
6.6%
Refrigeration Mechanics and Installers
244,410
$41,100
$19.80
$53,700
$25.80
86,600
28.1%
Shampoo Technicians
16,170
$17,900
$8.60
$20,400
$9.80
3,400
14.6%
Telecommunications Line Technicians
162,400
$49,100
$23.60
$62,200
$29.90
1,600
0.9%
Welders, Cutters, and Solderers
357,740
$34,800
$16.70
$42,400
$20.40
-6,700
-1.6%
Welding and Brazing Machine Operators
41,580
$32,800
$15.70
$39,500
$19.00
-3,800
-7.1%